Skip to end of metadata
Go to start of metadata
Release Date: July 12, 2023
What's new
New Flatten theme variant - a clean and minimalist approach to the design
The Flatten theme variant introduces a clean and minimalist approach to the design, focusing on simplicity and elegance. The user interface elements are thoughtfully arranged, providing a clutter-free experience that allows users to navigate effortlessly throughout the platform.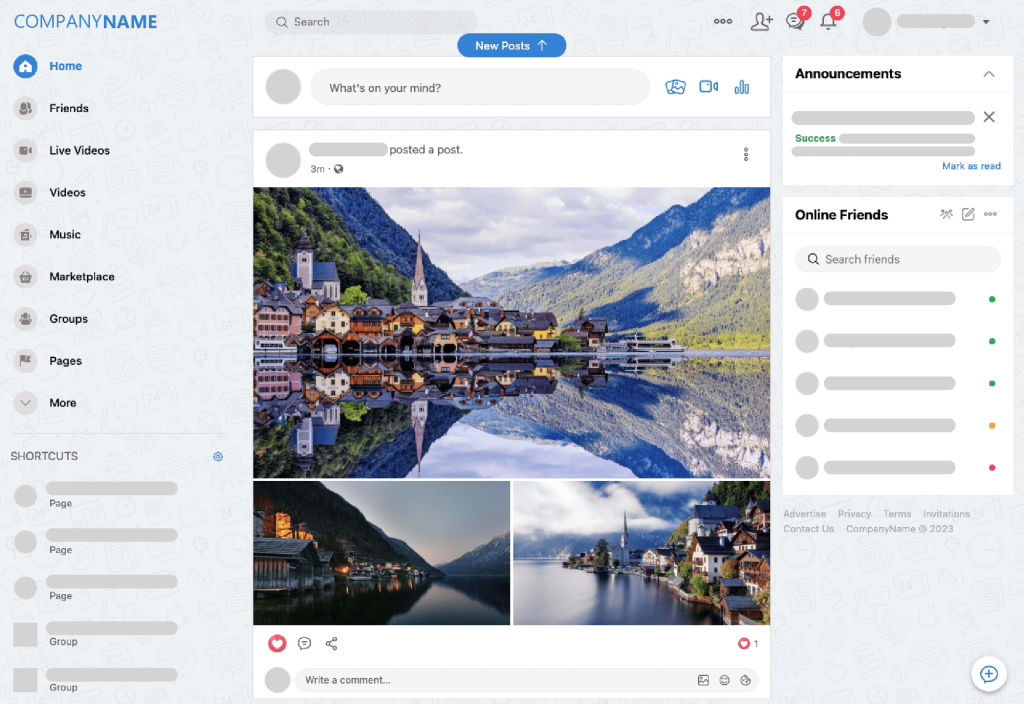 With its sleek and streamlined aesthetic, Flatten offers a visually appealing user interface that is both visually captivating and user-friendly.
The Flatten theme variant is fully responsive, ensuring a seamless experience across various devices, including desktops, tablets, and mobile phones. Users who access your social networking platform from a large desktop screen or a small mobile device will enjoy a consistent and optimized user experience.
Additionally, the Flatten theme is free for Admin to customize. Admin users can choose from various customization options via Layout Editor, including personalized background images, color schemes, and font styles, enabling them to create a visually distinctive presence within the social networking community.
Powerful Live Layout Editor - Effortlessly modify page layouts and customize styles
Introducing the powerful Layout Editor feature in our social networking software, allowing administrators to effortlessly modify page layouts and customize styles in a visual and intuitive manner. With this feature, admins can take full control over the design and appearance of their social networking platform, creating a unique and tailored experience for their users.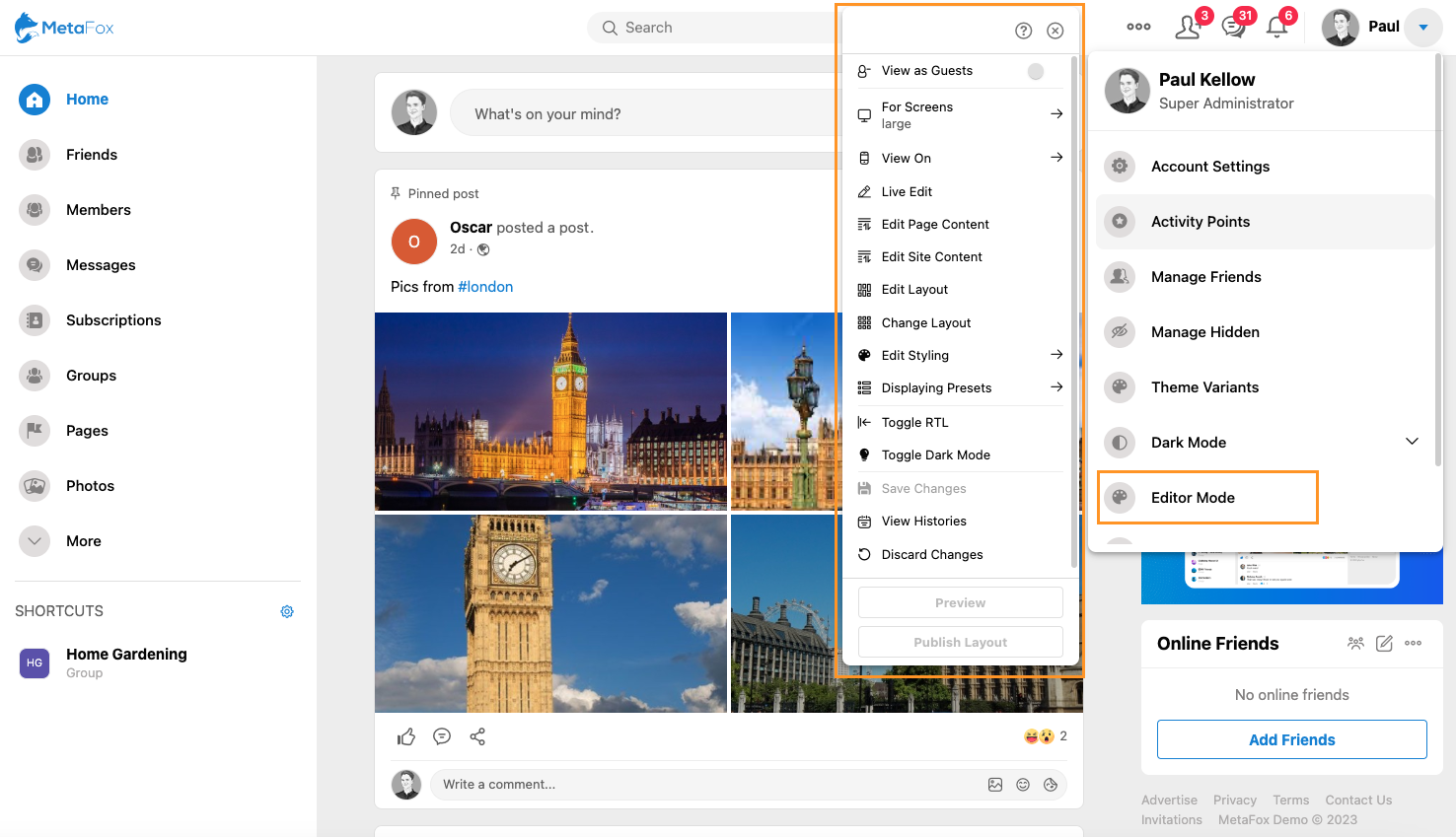 The Layout Editor provides a user-friendly interface that simplifies the process of customizing page layouts. Administrators can easily rearrange and add various blocks, such as static HTML content, profile sections, activity feeds, widgets, navigation menus, and more. Drag-and-drop functionality makes it a breeze to reposition and organize these blocks, enabling admins to create the perfect layout for their platform's specific needs.
Not only does the Layout Editor offer flexibility in arranging page elements, but it also allows administrators to customize the styles and visual attributes of their platform. With a comprehensive set of styling options, admins can easily adjust colors, fonts, borders, backgrounds, and other visual elements to match their brand identity or create a visually appealing theme. The real-time preview functionality ensures that admins can see their changes instantly, providing a seamless and efficient customization experience.
The visual nature of the Layout Editor eliminates the need for coding or technical expertise, empowering admins with the ability to make significant design modifications without any programming knowledge. This puts the power of customization directly into the hands of administrators, enabling them to create visually stunning and personalized experiences for their users.
Experience the power of the Layout Editor feature in our latest version, and take customization to the next level in your social networking platform. Empower your administrators to unleash their creativity and design visually stunning layouts that captivate and delight users.
Seamlessly Update MetaFox in AdminCP
This is the exciting new feature in our upcoming product version — the ability to update the software seamlessly from within the AdminCP. With this convenient and streamlined feature, administrators can easily update their product to the latest version with just a few clicks directly from the intuitive AdminCP interface, eliminating the need for manual update routines. The system will handle the entire Software Updates procedure, including database updates and necessary configuration changes, ensuring a smooth transition to the latest version.
By offering an in-built Software Updates mechanism within the AdminCP, we aim to simplify the software update experience for our valued users. This feature ensures that administrators can effortlessly keep their products up to date, benefiting from the latest enhancements, bug fixes, security patches, and exciting new features we introduce with each version.
Our goal is to provide a user-friendly and efficient update experience, empowering administrators to stay current with the product's advancements and continually enjoy its improved performance, functionality, and user experience. The in-built Software Updates feature within the AdminCP ensures that updating your product is a hassle-free and time-saving process.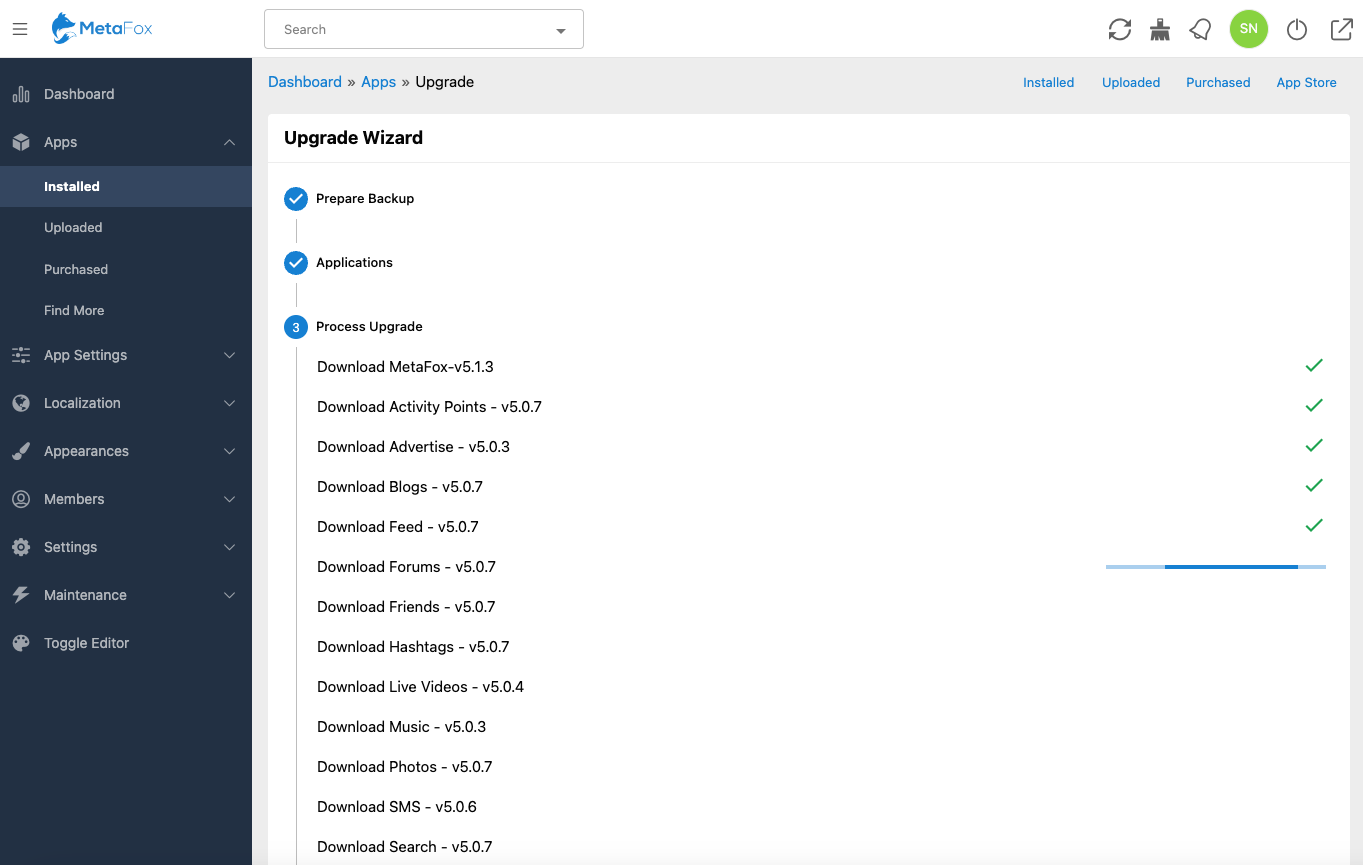 Ads management on Mobile apps
This new feature empowers users to efficiently manage their advertisements directly from their mobile devices.
With the ability to manage ads on mobile app, users gain greater convenience and flexibility in promoting their content and reaching their target audience. Whether it's promoting a personal brand, a business, or a cause, users can easily create, monitor, and adjust their ad campaigns right from the palm of their hand.
By extending ad management capabilities to mobile apps, our software enables users to stay connected and responsive to their advertising campaigns, even while on the go. Whether users prefer using a desktop or a mobile device, they can now leverage the power of our software's ad management functionality to maximize the reach and impact of their advertising efforts.
Support for Sponsor Feed
The software now includes support for sponsored content in the feed, enabling businesses or influencers to promote their content to a wider audience.
Support for Sponsor Blog
Users can now monetize their social networking platform by allowing sponsored blog posts, where companies or individuals can pay to publish their articles or blog posts on the platform.
Support for Invite-Only Registration
With this improvement, you can now enable registration on your social networking website only through invitations. This feature provides more control over user registration and can help maintain exclusivity or limit access to a specific audience.
Live Video on Page/Group
Users can now create and broadcast live videos directly from their social networking pages or groups. This feature enhances the interactive and real-time nature of your platform, allowing users to engage with their audience through live video content.
Performance Enhancements
The new version of the software includes various optimizations and improvements to enhance its overall performance. These performance enhancements may involve areas such as faster loading times, improved response times, reduced server resource usage, optimized database queries, and overall smoother user experience. The focus on performance ensures that your social networking platform operates efficiently and provides a seamless experience for your users.
Resolved known issues
Bug fixes are a crucial and essential part of software development as they improve the overall quality and functionality of the product. The new version of the software addresses and fixes various bugs and known issues in previous versions. These bug fixes ensure that the software functions as intended, eliminating any unexpected behaviors or errors that users have encountered.  They contribute to a smoother user experience and help maintain the integrity of your social networking software.