Skip to end of metadata
Go to start of metadata
Release Date: Sep 19th, 2023
What's new
Features and Enhancements
Monetization with E-Money 
We're excited to introduce our groundbreaking E-Money feature, designed to enhance your experience on MetaFox while offering you opportunities for financial growth. With E-Money, you can now seamlessly engage with our community and generate income while enjoying a secure and efficient payment system.
Supports Admin commission earnings, allowing administrators to earn a commission fee for every transaction that occurs within the community. All payments initiated by users within the community will be routed directly to the payment account configured in the AdminCP. This streamlines payment processing, ensuring that funds are securely and promptly received.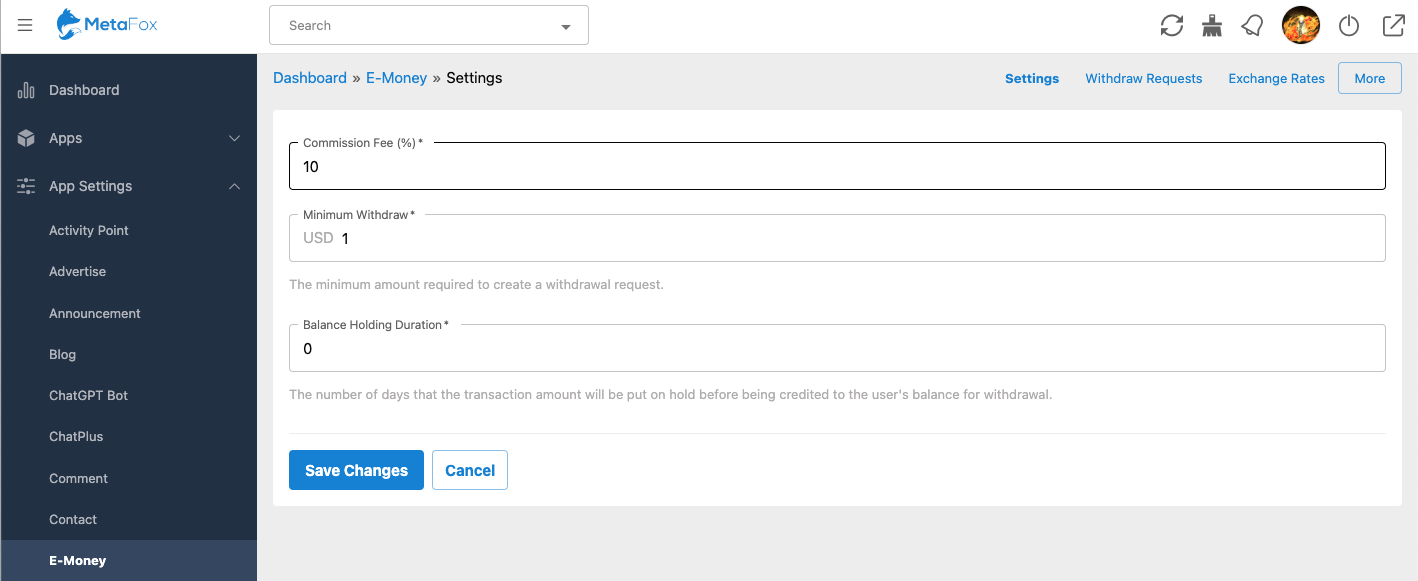 User accounts will reflect the paid amount after deducting the payment commission fee. The actual amount processed will be based on USD (United States Dollar) after being converted using the latest currency conversion rates. This ensures that users have a clear view of their earnings and expenditures. Users can manage their finances effortlessly within the Account Settings section. This includes checking their current balance, reviewing transaction history, sending funds, and monitoring withdrawal requests.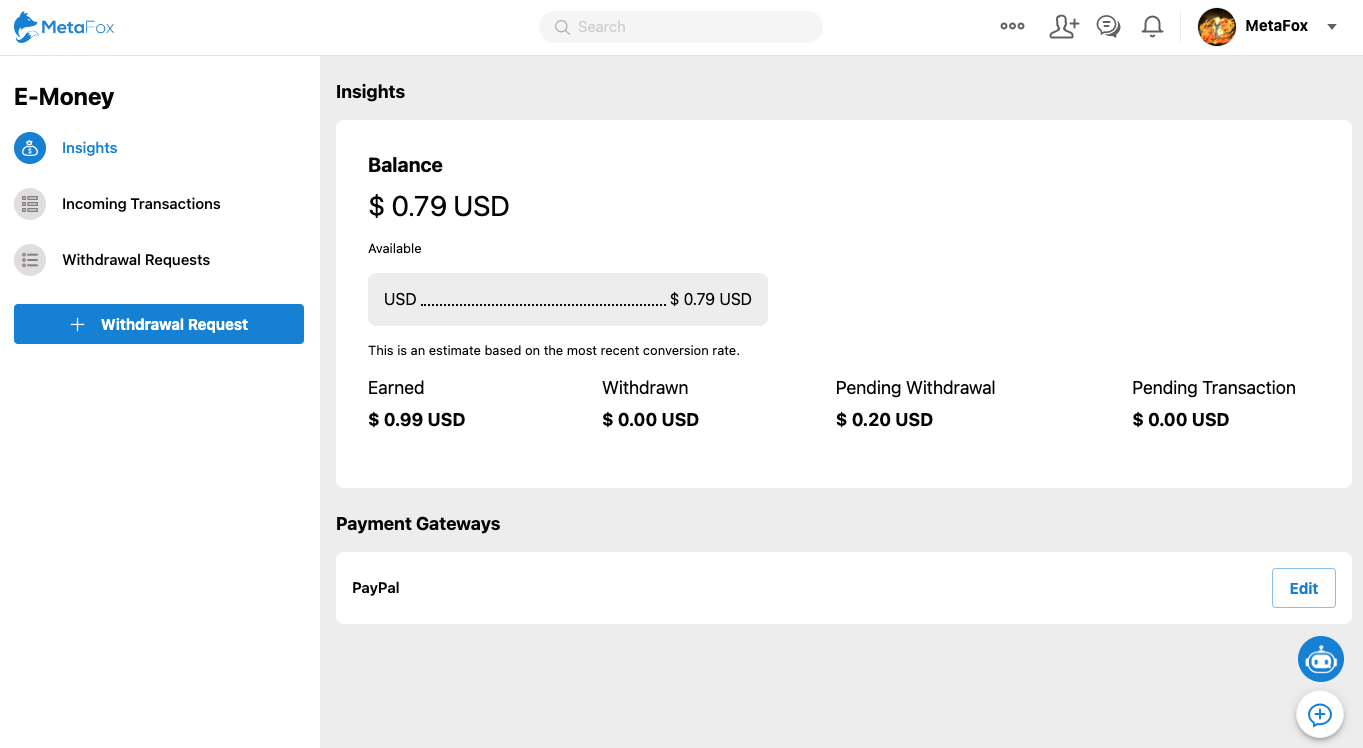 Admins play a vital role in the E-Money system by managing user withdrawal requests. Upon receiving a withdrawal request, Admins have the authority to approve it. Once approved, the Admin will be redirected to PayPal to complete the payment processing.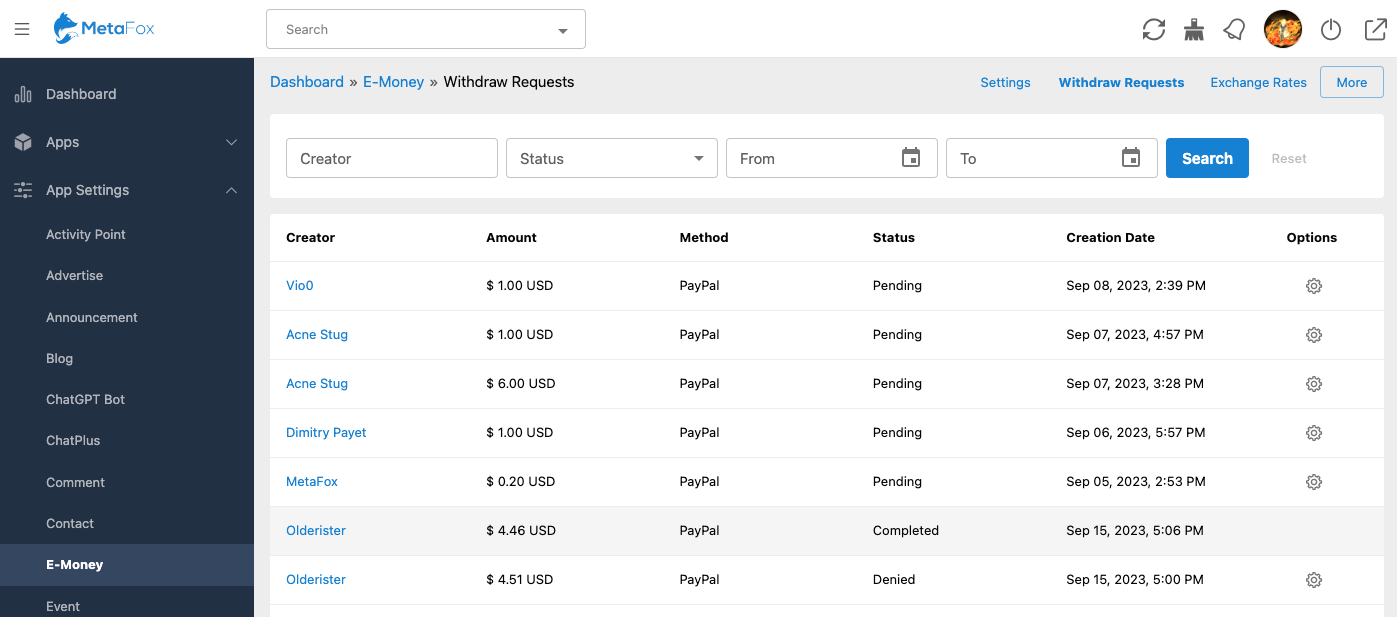 Added Security with Multi-Factor Authentication (MFA) 
Protect your account with an additional layer of security using Multi-Factor Authentication (MFA) via Email and SMS.
Before enabling MFA, users need to confirm the password to ensure secure access.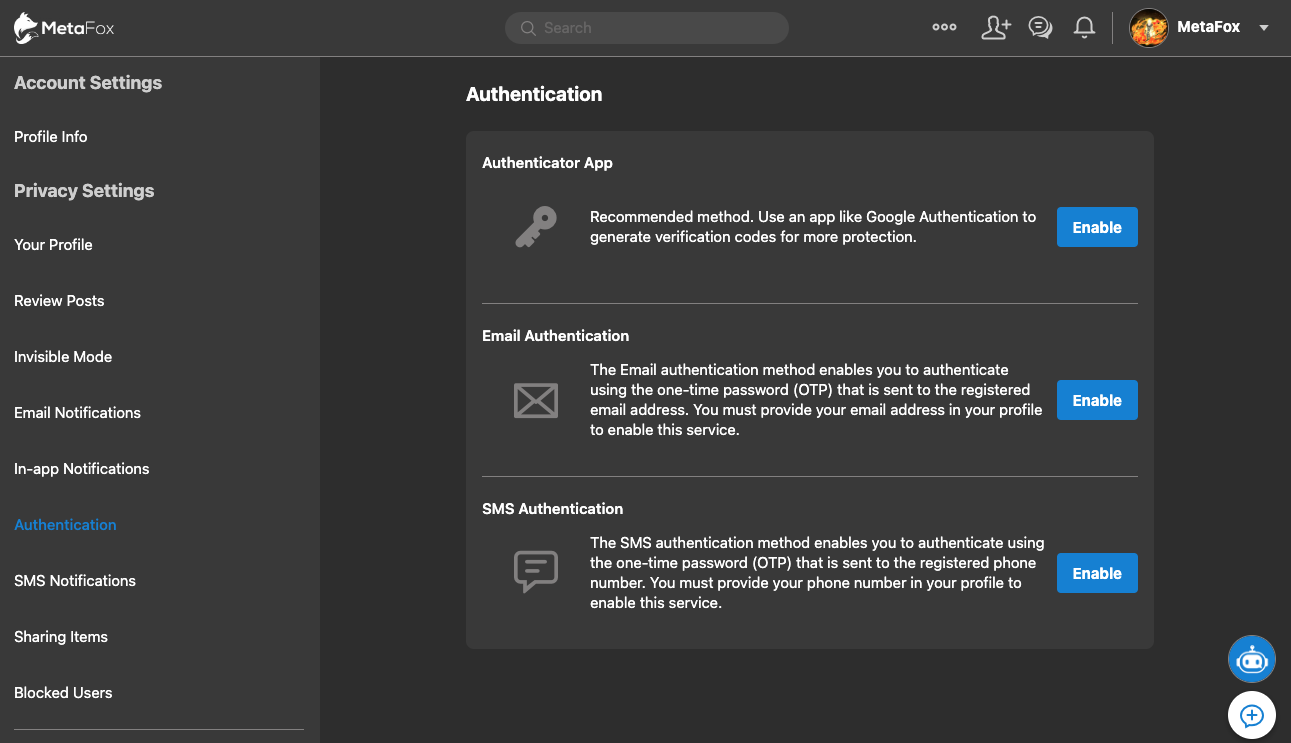 Login with TikTok and Phone number
Streamline the registration process by allowing users to sign up with their phone numbers.
On top of social logins with Facebook, Google, and Apple, users can now seamlessly log in to your MetaFox account using your TikTok credentials, connecting you to a wider audience effortlessly.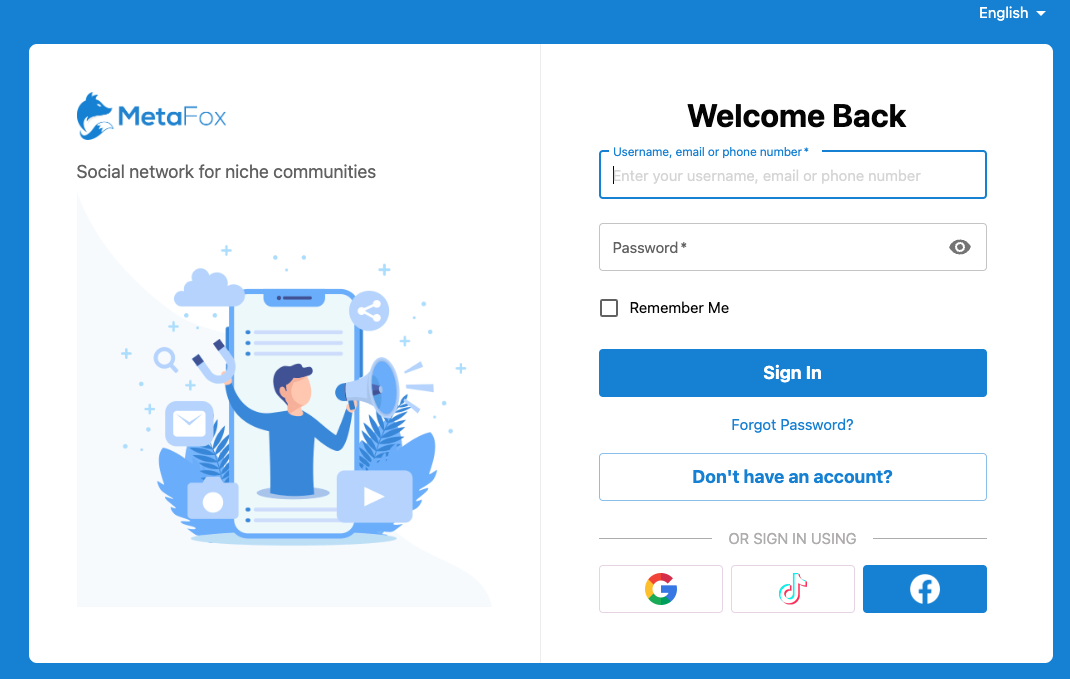 Birthday Reminders 
Never miss a friend's birthday with our new reminder feature, ensuring you celebrate those special days together.

Brute-Force Protection for Login and MFA 
Rest easy knowing that your account is guarded against brute-force attacks with our robust protection mechanisms for both login and MFA.
Performance Improvements for APIs 
Enjoy faster and more responsive API interactions with significant performance enhancements.
Friend Suggestions Based on Location 
Discover new connections in your area with location-based friend suggestions, making it easier to connect with people nearby.
Mention Friends, Pages, and Groups in Comments 
Users can foster engagement and connection by mentioning friends, pages, and groups in their comments now.
Related Groups Suggestions 
Find public groups that match your interests by exploring related groups your friends have joined or those in the same categories.
Trending Hashtags on Mobile 
Users can stay updated with the latest trends by accessing trending hashtags on your mobile app.
Multiple Languages for Categories 
Admin can define categories of Photos, Pages, Groups, Event, Forum, Marketplace, Blog, and Music for supported languages on the community.
Profile Avatar with uploaded photos 
Users can update their profile easily by selecting uploaded photos as their avatar.
UI/UX Improvements
Enhanced layout in Dark Mode when mentioning Pages, Users, or Groups.
Streamlined flow for page owners that 

they can only mention page members, other pages, and other public groups when creating posts.

Users can change language more conveniently with Language selection under the dropdown Account menu.
Validate phone number before sending invites via SMS.
Numerous minor UI/UX enhancements.
Support Apple Pay and Google Pay on Mobile app 
Conveniently make payments using Apple Pay and Google Pay within our mobile app, providing you with secure and efficient payment options.
Background Fetch API on Mobile app
Experience improved app performance and seamless data synchronization with the Background Fetch API on mobile, ensuring your content is always up to date.
Bug Fixes:
We've addressed various bugs and issues to provide you with a smoother and more reliable MetaFox experience. 
At MetaFox, we are committed to delivering a high-quality and reliable platform for our users. We want to thank you for your feedback and for helping us identify and resolve these issues. Your input is invaluable as we continue to refine and improve the MetaFox experience.
If you encounter any further issues or have suggestions for improvement, please don't hesitate to reach out to our support team. We're here to assist you and ensure that your time on MetaFox is as enjoyable and trouble-free as possible.